Investigate the mudflats
During this diverse 2-session program, the students do research on the mud flats and in the fieldwork center. On the flats, they study the ecology of the Wadden Sea World Heritage site. This includes ebb and flood currents, the influence of the tides on life in the Wadden Sea and the various human interests and influences in the wadden region. By performing simple sampling techniques at various spots, they discover how rich life is in the Wadden Sea. Using a fork, push nets, sedimentation tubes and a sieve, they literally dive into the mud. In the fieldwork center, the students study the collected samples with the help of a (binocular) microscope. The program concludes with presentations from the students, in which they share their newly acquired knowledge with their classmates.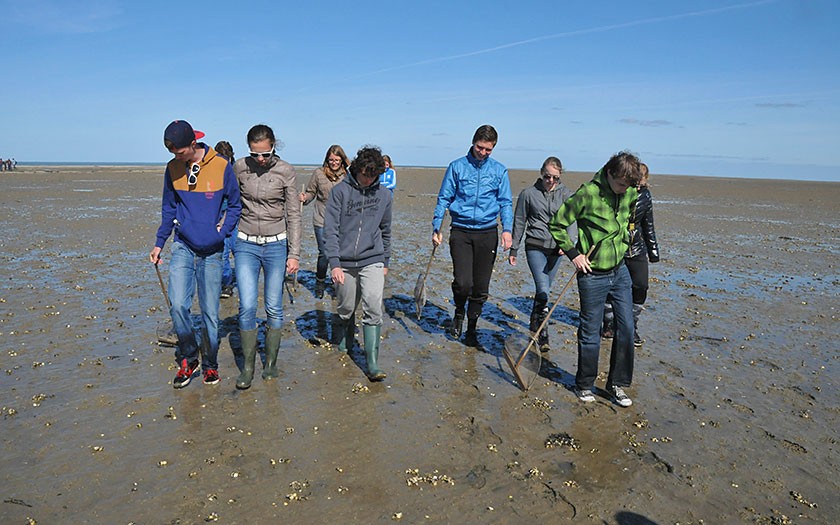 Book outdoor programs
To arrange an outdoor program, call the booking office or use the contact form. In order to make a reservation we need to know the following information: name, address, telephone number and email address for the school, cell phone number on Texel, number of pupils and guidance, lodging address and way of transportation for the group on Texel. The booking office is available per telephone during office hours via 0031 222-367440 and boekingskantoor@ecomare.nl.
An outdoor program costs € 170.- for a maximum group of 30 pupils. An in-depth program, including a session in the fieldwork centre costs € 330.-.
Discover the magic of the Wadden Sea
Discover Wadden Sea World Heritage in this interactive exhibition.
---
Read more