Star gazing
Texel is really dark at night! That's why you can enjoy star gazing so much here. The local astronnomy club De Jager has their observatory next to Ecomare's main building. They have fixed telescopes, solar telescopes and a large binocular telescope. There's always something exceptional to view!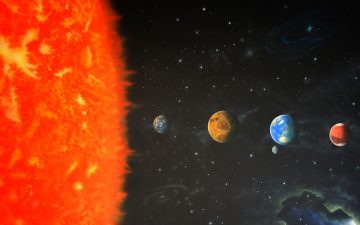 Opening hours observatory
During the winter season, when it gets dark early, there are regular star gazing evenings. During the summer season, the observatory is sometimes open during the day to view the sun. You can observe solar flares and sunspots through the special solar telescope. Whether you can see stars or the sun is dependent upon the weather. Therefore you always need to get in touch with the local club.
For more information concerning viewing nights and talks about the night sky, go to the 'Volkssterrenwacht De Jager' website or check out the excursion page on this website.
Discover the magic of the Wadden Sea
Discover Wadden Sea World Heritage in this interactive exhibition.
---
Read more