Ringed seal
Ringed seals are fat little seals and are therefore also referred to as the small seal. They live in and around the Arctic region, but sometimes wander into the North Sea. In the Arctic region, ringed seals make fortresses in snow mounds on the pack ice, where the young are born. The mother can reach her young through a breathing hole in the pack ice. These breathing holes are often favorite spots for polar bears, where they will wait to catch a good meal.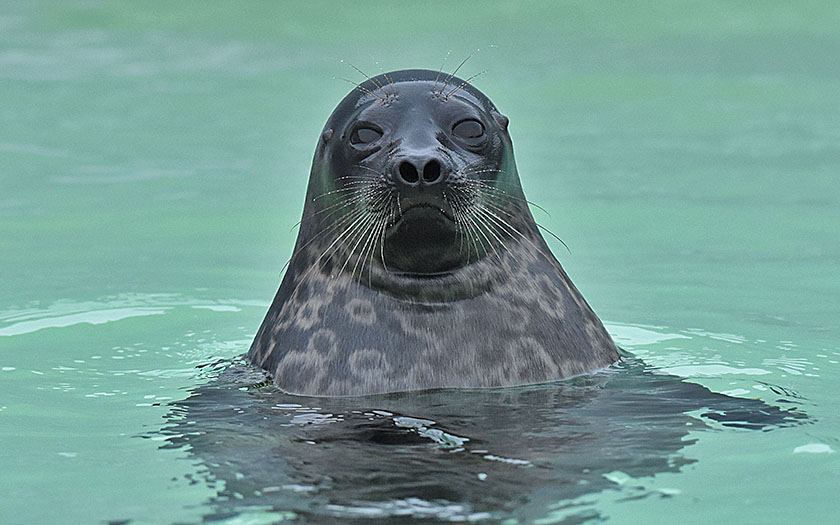 Distribution and habitat of ringed seals
Ringed seals live in the Arctic region (Arctic Ocean), the Hudson Bay, the Baltic Sea and the Bering Straits. There are also two sub-species in Finland and Russia, which live in fresh water. A lost ringed seal is occasionally reported in the North Sea.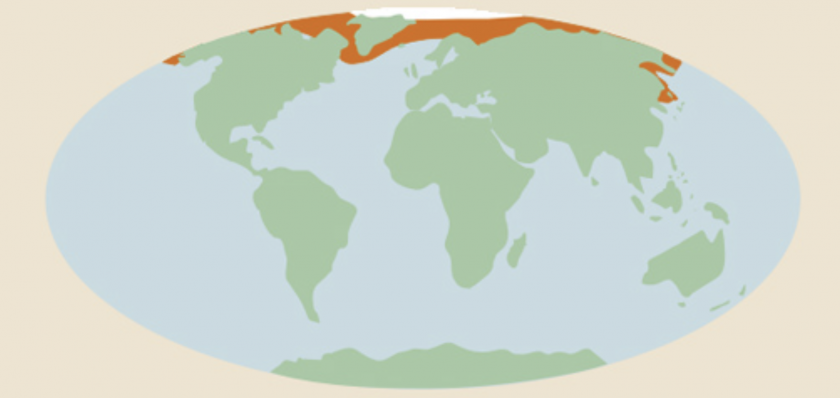 Ringed seals on Texel
There are five known beachings of ringed seals on Texel. The last time was in 2008. The animals were brought to Ecomare and kept separate from the other seals. This was necessary to prevent diseases from spreading. They were released after recovery into the North Sea, far away from the coast. In 2018, two ringed seals moved from the Royal Burgers' Zoo to Ecomare. The Arnhem zoo needed to remove them in order to enlarge the living space for other animals there. The oldest of the two died in 2022.
Beachings along the Dutch coast
When young ringed seals learn to live independently, they can wander off far away. Quite a few of these young animals often end up in the southern North Sea in the summer months. Every once in awhile, these vagrants even swim as far away as Portugal.
Date
Place and details
November 1879
Rockanje, sex unknown
29 July 1889
Zoutkamp, female
August 1923
Oostvoorne, sex unknown
July 1957
Texel, sex unknown
4 July 1968
Texel, sex unknown
23 August 1972
Breskens, female
29 July 1972
Rilland-Bath, sex unknown
25 July 1973
Engelsmanplaat, female
22 July 1977
Ameland, male
1 August 1977
Zierikzee, female
5 August 1977
Holwerd, female
9 June 1978
Texel, female
21 July 1979
Schiermonnikoog, female
18 June 1980
Bergen op Zoom, female
16 October 1980
Beneden Merwede, female
18 July 1982
Rockanje, female
28 July 1982
Oosterhout, female
13 July 1985
Texel, male
21 July 1985
Moddergat, male
25 July 1985
Terneuzen, female
15 July 1987
Ouddorp, sex unknown
1 August 1988
Pieterburen, male
14 July 1990
Breezanddijk, male
18 July 1990
Texel, female
7 December 1991
Wassenaar, male
2 March1993
Zoutelande, sex unknown
20 July 1994
Schiermonnikoog, female
31 August 1994
Grevelingenmeer, male
April 1996
Schiermonnikoog
1999
Terschelling, young animal, sex unknown
2002
Terschelling
2007
Wierum, male
August 2008
Texel, young female, alive
31 July 2011
South side of Vlieland, young female, alive
6 October 2013
Vlieland, young female
27 August 2015
canal in Utrecht, young female
Source: van Bree, 1996 and reports from Seal Sanctuary Pieterburen
Facts about ringed seals
max. size: Around 1.65 meter
max. weight: Around 110 kilogram
color: Brown-gray with lighter rings
lifespan: Maximum 43 years (average 15-20 years)
food: Fish, krill and crustaceans
movement: Swimming and hobbling
enemies: People (hunting, fisheries, pollution and disturbance) and polar bears
reproduction: Sexually; mature: one year old
Names
Dut: Ringelrob (stinkrob, kleine zeehond)
Eng: Ringed seal
Fre: le phoque annelé (le phoque marbré)
Ger: Ringelrobbe
Lat: Phoca hispida (Pusa hispida)
Dan: Ringsælen
Nor: Ringsel
WWW
Discover the magic of the Wadden Sea
Discover Wadden Sea World Heritage in this interactive exhibition.
---
Read more