Sharks
Sharks are cartilage fish. Their skeleton is not made of bones but from cartilage. They tend to have a bad reputation. But in reality, there are only a handful of species that are really dangerous. Those sharks that you can better avoid coming into contact with don't swim in the vicinity of the Netherlands. They live particularly in tropical waters. Most of the common sharks that swim in the North Sea are relatively small. Larger species, such as the basking shark, are also seen every once in awhile. But this shark doesn't even have any teeth.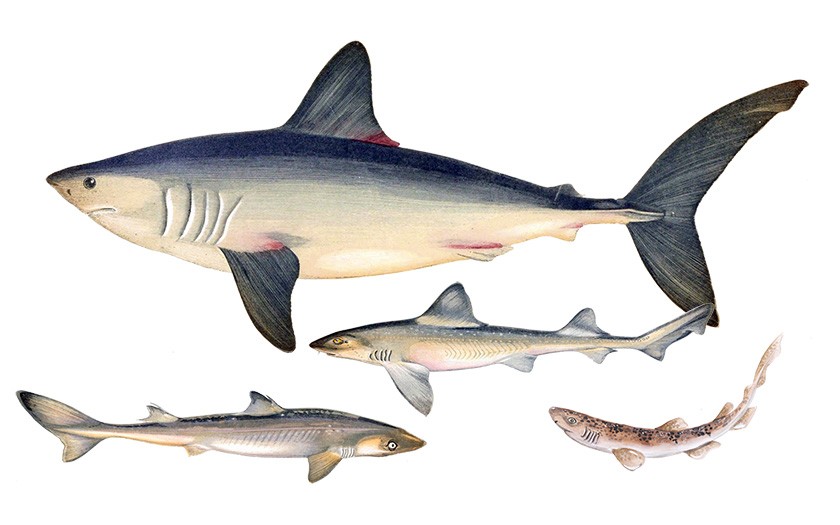 Sharks as victims
Life for most shark species in the North Sea is not easy due to fisheries. Sharks are sensitive to overfishing because they are only sexually mature at a relatively late age. Not only does it take a long time before they reproduce. They have a very long pregnancy (sometimes up to 2 years) and they don't lay many eggs.
Sharks are mostly fished in mixed fisheries. Besides sharks, the fishermen are also after other fish species. There is only one known case of a fisherman that fishes specifically sharks. This Dane catches basking sharks. In many cases, sharks and their eggs end up in fishing nets unintentionally. These are then bycatch.
Worldwide, tens of millions of sharks are caught yearly for shark fin soup. In that case, only the fins are used, the rest of the animal is thrown overboard. 'Definning' has been banned in the European Union since 2003. Sharks are still caught for shark fin soup, shark meat, oil and cartilage.
Since 2007, the European Commission has worked hard on an EU-action plan for sharks. This plan includes ideas for better protection and further research on the most vulnerable shark species.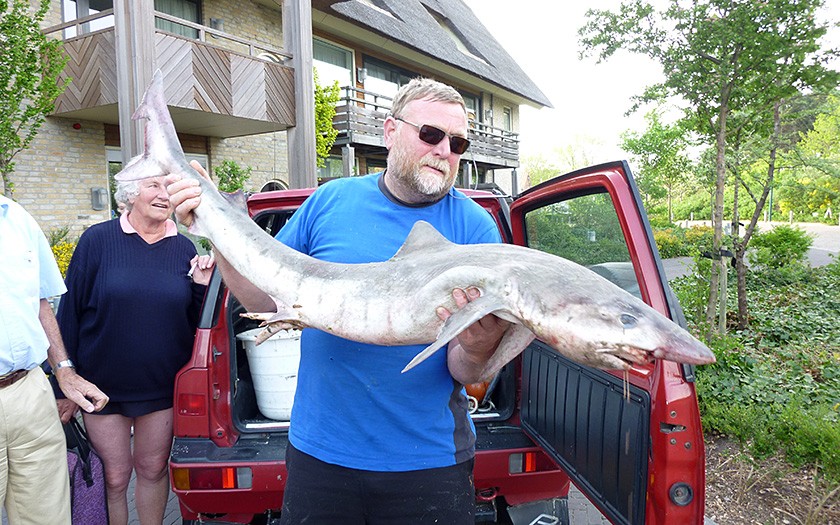 Fishing for shark research
Since 2012, sport fishermen have been catching sharks during the international Sharkatag weeks for research. The sharks are tagged in their fin and returned to the sea alive. Little is known about the amount and distribution of sharks in EU waters; their migration routes in particular are a mystery. By tagging the sharks, the anglers are helping to chart the population of sharks and to assure their future.
Sharks tagged in the Netherlands have since been seen along the British, Belgium and French coasts and as far away as the Gulf of Biscay. Tagged sharks were even found in more northerly waters: north of Scotland and off the Norwegian coast.
In 2015, shrimp fishermen in the Wadden Sea began to tag sharks which they caught accidentally. They work together with the Waddenvereniging.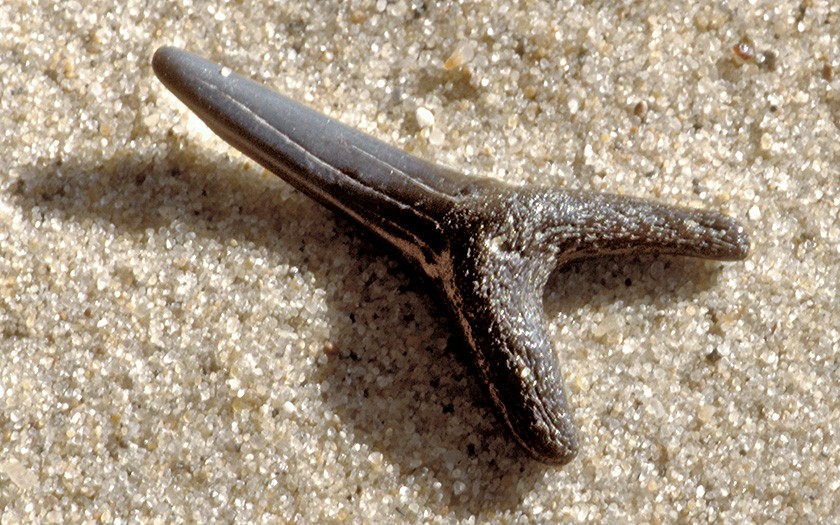 Lesser spotted dogfish
Lesser spotted dogfish are small bottom sharks and are harmless for man. Sometimes you find the empty olive-colored egg cases along the flood mark on the beach. These egg cases are also called mermaid's purses. You can usually see a tear where the young shark left the egg. The tips of the cases were once attached to a stone, shipwreck or maybe even seaweed. It is very unusual to find a case that still contains life. That is easy to check, since the egg capsule is transparent.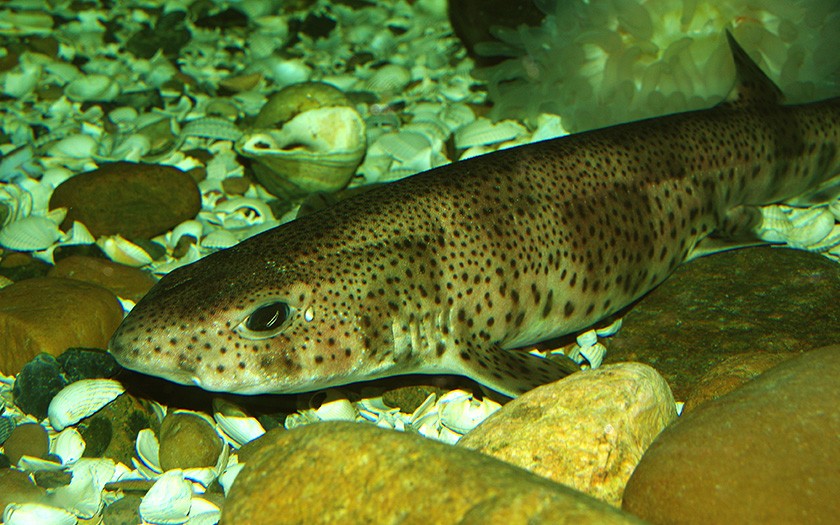 Dogfish consumption?
Lesser spotted dogfish are sometimes caught for consumption. The filet from this shark is often sold as 'sea-eel' or 'salmon'. Apparently, people don't find the idea of eating dogfish so inviting. Does it come from the word 'dog'?
However, dogfish are usually caught accidentally. Being a bottom dweller, fishermen catch them while going after flatfish. Because lesser spotted dogfish grow relatively slowly, there is a good chance that they are caught before reproducing. Therefore, it is no wonder that lesser spotted dogfish have become more rare in intensively fished regions.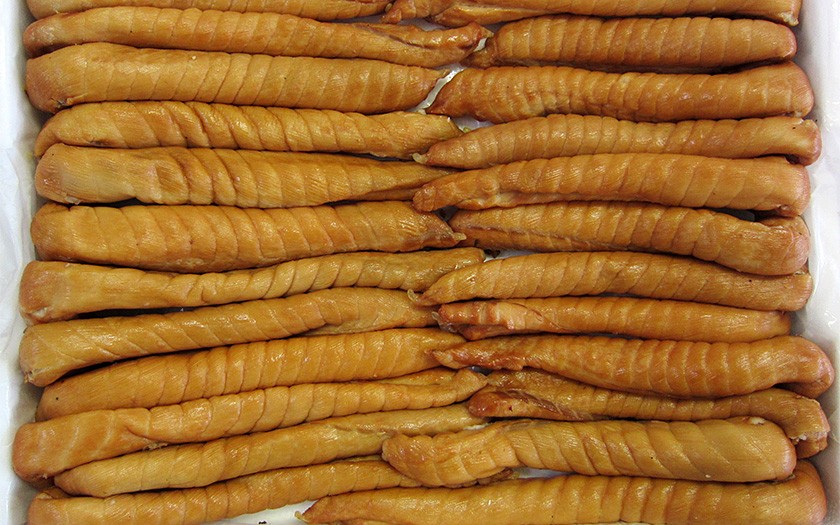 Distribution and habitat of sharks
Since the 1970s, the lesser spotted dogfish has been the most common species of shark in the North Sea. However, the numbers have been declining, although not as rapidly as the spurdog which used to be the most common species. Since 2000, the number of lesser spotted dogfish in the North Sea has risen somewhat.
Lesser spotted dogfish live close to sandy or muddy bottoms, preferably where seaweed also grows. Young dogfish prefer shallow water while adults prefer deeper water. They don't swim in schools.
Lesser spotted dogfish are found in the northeastern Atlantic Ocean, including the North Sea. They can swim incredible distances. Specimen that were caught and marked in the North Sea were found later on as far away as the Canary Islands.
Dogfish egg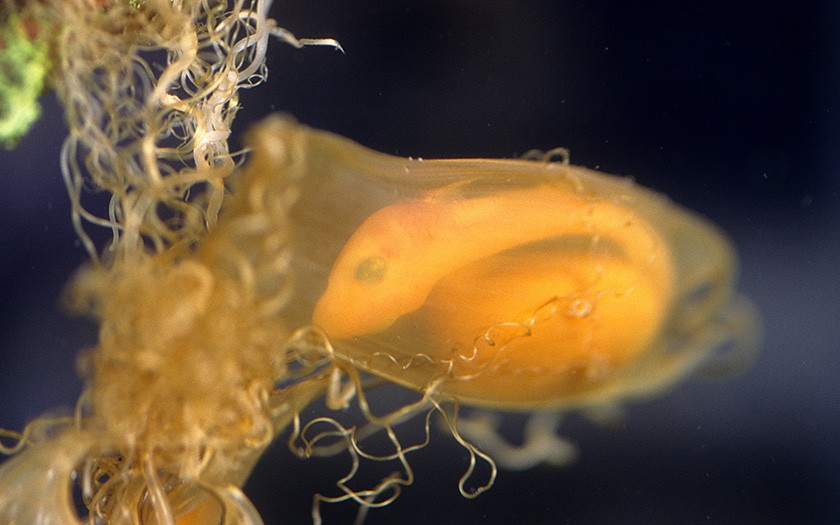 Facts about dogfish
size:
up to 1 meter
weight:
up to 3 kilograms
color:
Gray-brown with lots of brown-red spots and a dirty white belly
age:
up to around 9 years
food:
crustaceans, fish (lesser zandeel, young herring), shellfish and worms
enemies:
other sharks
reproduction:
lays eggs
maturity: age 10 years
number: 18-20 young per nest
Names
Dut: Hondshaai (ashaai, asselhaai, bonte haai, hashaai, tigerhaai, zeehond, kleingevlekte kathaai)
Lat: Scyliorhinus canicula
Eng: Lesser spotted dogfish
Ger: Kleingefleckter Katzenhai
Fre: Petite roussette
Dan: Smiplettet rødhaj
WWW
Discover the magic of the Wadden Sea
Discover Wadden Sea World Heritage in this interactive exhibition.
---
Read more