The Schorren
The Schorren is located on the seaside of the dike bordering the polder Eendracht. It is a 6700-hectare large salt marsh region with many creeks. It is one of the richest bird regions on Texel. During high tide, it serves as a refuge for many tidal flat birds that await receding water to forage for food. Many birds nest here, including oystercatchers and redshanks. Spoonbills have been breeding here since 1982. Brent geese graze the marsh between September and May. The Schorren is owned by Natuurmonumenten. You can observe the region from the dike or take a guided tour.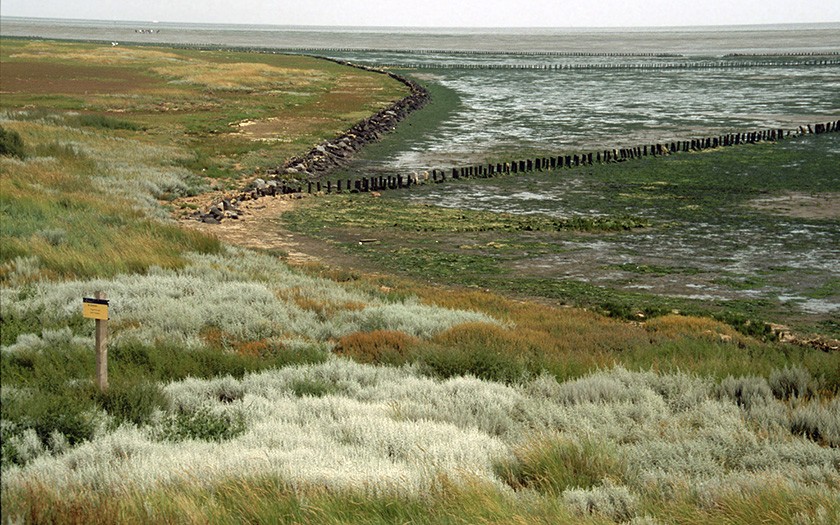 Shorebirds on the Schorren
Shorebirds look for their meal on the flats during ebb. Those birds that use the Schorren to rest come from the flats lying between Texel and Vlieland. The birds stand close together along the edges of the marsh, waiting for ebb. Curlews and gulls will also use the fields behind the dike. The high-tide refuge is used the entire year. In the spring and autumn, it is particularly busy thanks to the many migrating birds that join the group. There are lots of oystercatchers, bar-tailed godwits, curlews, red knots, redshanks, dunlins, black-headed gulls and common gulls. Lesser amounts of gray plovers, Kentish plovers, greenshanks, spotted redshanks and avocets are also found. Furthermore, wigeons, cormorants, common teal, pintails, brent geese, spoonbills and eiders rest on the edge of the marsh.
If you want to see the birds, just sit on the dike during high tide. It is very impressive watching the huge groups of shorebirds fly in, as they sway and spin through the air.
Spoonbills on the Schorren
Spoonbills have been nesting on the Schorren since 1982. This is the third colony to form on Texel. The other colonies are located in the Muy and the Geul. It is the second largest on the island, counting more than 140 nests in 2010. The Geul is the largest, with more than double the amount. The birds on the Schorren search for their food on the mud flats. They eat mostly shrimp. Short dams have been built to protect the nests and the chicks during extremely high floods. An orange spoonbill on the Schorren attracted national news in 2008. It was discovered during the European soccer championship games. The bird had a harmless color deviation, found more often in spoonbills.
Discover the magic of the Wadden Sea
Discover Wadden Sea World Heritage in this interactive exhibition.
---
Read more