German wadden region
The German wadden region runs from the island Borkum in the southwest up to the island Sylt in the northeast. The East Frisian part of the region, from Borkum to Jade, is a row of dune islands lying in front of a shallow tidal region. From Jade to the peninsula Eiderstedt, the landscape is typified with deep channels from the river mouths of the Weser and the Elbe. The number of islands is much fewer in this area. North of Eiderstedt begins the North Frisian wadden region, with a protective row of sandbanks and dune islands and a Halligen landscape lying behind. The coasts of the German federal states Niedersachsen, Schleswig-Holstein and Hamburg border the Wadden Sea. A small amount of the federal state Bremen borders the Wadden Sea.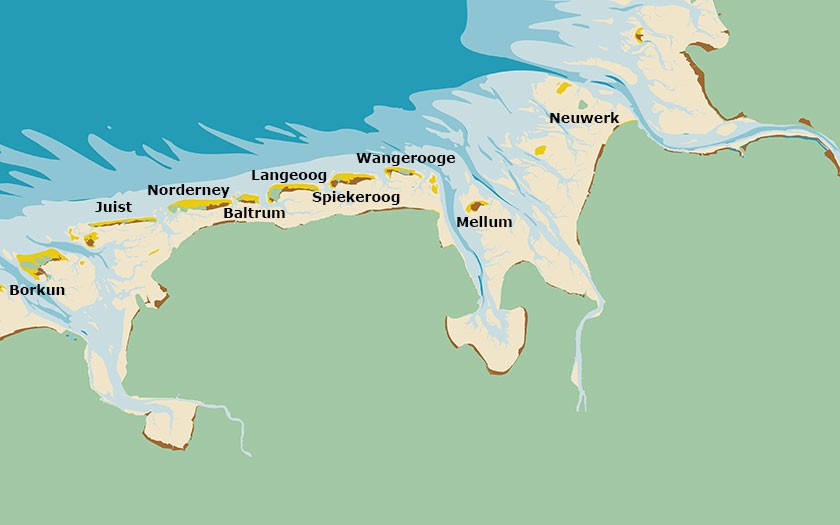 Niedersachsen
There are seven inhabited East Frisian islands in the Niedersachsian Wadden Sea (Borkum, Juist, Norderney, Baltrum, Langeoog, Spiekeroog and Wangerooge). The uninhabited islands are Memmert, Mellum, Minsener Oog en Lüttje Oog. There are dunes and salt marshes on all of the islands, where a sea climate prevails. Along the mainland, the coastal regions are divided into the Weser-Ems region and the Elbe-Weser region. The outer dike region together with the Wadden Sea and the uninhabited parts of the islands form a National Park. This National Park is also part of the Wadden Sea World Heritage.
Hamburg
The part of the Wadden Sea belonging to Hamburg lies northwest of Cuxhaven. The islands of Neuwerk, Scharhörn and Nigehörn are located in this region.
Schleswig-Holstein
The wadden coast of Schleswig-Holstein lies between the mouth of the Elbe and the Danish border. The uninhabited bird island Trischen lies in an open, flat wadden region. North of the peninsula Eiderstedt, there is a row of sandbanks and islands Amrum and Sylt, followed by the Halligen, Pellworm and Föhr. The two regions Dithmarschen and Nordfriesland are on the mainland coast. The outer dike region and the uninhabited parts of the islands form a National Park and are part of the Wadden Sea World Heritage.